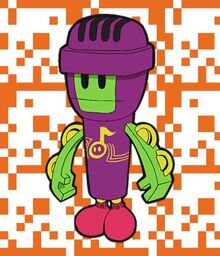 Micmin
is a character in
Kamiwaza Wanda
and a
Promin
. His attribute is
Shirishiri
.
Personal
Appearance
Micmin resembles a purple microphone with light-green arms, bright-red feet, a light-green face and yellow markings.
For his Bugmin ego, see: Bug-Micmin
As a Bugmin, his looks remained the same but his voice is in a handsome, French prince's accent.
Personality
Micmin is a Promin that talks in human language. He is also excellent at singing. As a Bugmin, Micmin dislikes the Japanese karaoke 'dong' sound.
Relationships
Abilities
Micmin's Kamiwaza ability is to sing and speak in human language and to make whoever uses him speack through him. As a Bugmin, he can make anyone sing like karaoke stars.
In the series
Micmin makes his debut as a Bugmin in episode 6 when he makes Mirai sing like a karaoke queen. Gakkimin tried to confront Bug-Micmin but fails. Luckly, Tonkmin confronted him by playing a low-toned chime noise that will make Mirai drop Bug-Micmin. Then, Bug-Micmin was captured and debugged by Yuto.
Micmin made his camero appearance in episode 7 when Nicole used him for her speech at a special food festival event.
In episode 9, Micmin was kidnapped by Bug-Liftmin. In episode 10, he was rebugged and then messed around in the old man's sweet shop with Bug-Gakkimin. Bug-Micmin was later recaptured and debugged by Yuto who also captures and debugs Bug-Liftmin.
Micmin makes another appearance in episode 12.
In episode 24, Micmin unleashed a loud soundwave that will knock out Hanshamin. He carries on with his singing until his voice was silented out by Mutemin.
Micmin also appeared in episode 36 and episode 39.
Trivia
Background
Resemblances
Micmin resembles a microphone.
Notes
Micmin is the smallest of all the Promins.
Micmin's name comes from the word 'mic' which is short for 'microphone'.
Gallery
Links