Bug-Gauzemin is a character in Kamiwaza Wanda and a Bugmin. She is the Bugmin ego of Gauzemin.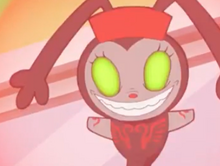 Personal
Appearance
Bug-Gauzemin resembles her Promin counterpart Gauzemin but however, she is a Bugmin. Bug-Gauzemin has a grey face and hands, a black body, a red nurse's cap and red markings. Her mouth is also curled into a cheesy grin.
Personality
Bug-Gauzemin is a cheeky and bratty Bugmin.
Relationships
Other Bugmins (companions)
Abilities
Bug-Gauzemin's Bugwaza ability is to cure injuries or illnesses with the wrong treatment or too much of her own treatment and also uses her bandages to tie up her captives.
In the series
Bug-Gauzemin made her first cameo appearance in the beginning of episode 1.
Bug-Gauzemin made her official appearance in episode 3 but she was later captured and debugged Yuto with Kagimin's help.
Gauzemin was rebugged by the Bug Bites and Bug-Katasumin prior to the end of episode 44. Bug-Gauzemin was then recaptured and debugged by Yuto in episode 45.
Trivia
Background
Resemblances
Like her Promin counterpart, Bug-Gauzemin resembles a nurse.
Notes
Gallery
Links